Sports Betting For Nevada Residents
Nevada is the number-one state for sports gambling, and they have regulated the industry of sports betting to the furthest extent. When it comes to sports betting in Nevada, you can visit any of the various sportsbooks and place wagers, but there are also several sports wagering websites to consider. These websites allow you to bet on sports without actually leaving your home, being inconvenienced by traffic or crowds, or having to eat any extra costs associated with going out for a night on the town. Instead, you can simply get involved in the games on your own time, betting only when and where you wish.
SportsBettingNevada is here to show you where you can legally bet on sports over the Internet. Among the topics of discussion are Nevada's sports betting laws as well as explanations of what those laws mean in the real world. If you want to learn more about the legality of sports betting websites in Nevada, keep reading!
Legal Sports Betting Sites Accepting Nevada Residents
If you decide you want to join up with a Nevada online betting site, you are going to have some options. All of these options are different, but we have done our due diligence and can explain the various features and facets of gambling sites open to residents of Nevada. There are state-licensed sportsbooks via local bookmakers, but the odds and bonuses at offshore sites tend to be better and far more expansive.
Should you decide to stick with what we have to show you, you will not have to deal with any shady operators or untested products. We have singled out the true cream of the crop, and all of these offshore books have decades of experience and millions of satisfied customers.
Best Nevada Sports Betting Sites - 100% Trusted + Safe
Is Sports Betting Legal in Nevada?
Having long been the home of sports betting in the US, Nevada is a state where it is definitely legal to wager on sports when done with a Nevada-licensed bookmaker. In fact, for decades, Nevada was the only state in the US permitted to offer sports betting. The Professional and Amateur Protection Act of 1992 (PASPA) banned all states except for NV, DE, OR, and MT from issuing sports betting licenses (though the three other states were not able to offer Vegas-style sports betting), but the law was ruled unconstitutional by the Supreme Court in May of 2018. Though other states can now regulate their own sports betting markets, Nevada is still considered the home of sports betting in the US, and it probably always will be.
Which Cities In Nevada Have A Sportsbook?
Being that sports betting has been legal in the state of Nevada for decades (since 1949), there are plenty of NV cities with sportsbooks. Las Vegas sportsbooks are the most popular, as the city is considered the gambling capital of the United States. There are more than 50 different bookmakers in Las Vegas, and it all comes down to personal preference when determining where you want to place your bets.
Henderson sportsbooks are located about 15 miles southeast of Vegas and also get thousands of visitors each year. As the second largest city in the state, you will find plenty of options for sports betting in Henderson, Nevada. The casino resorts in the area offer sports betting on football, basketball, baseball, soccer, boxing, and a host of other national and international sports.
Reno sportsbooks are extremely popular, as the city is considered one of the biggest gambling towns in the state. Some of the best sportsbooks in Reno, Nevada, can be found at the Peppermill Resort Hotel, the Atlantis Casino, and the Grand Sierra. Reno is also known as the birthplace of Harrah's Entertainment, so paying a visit to Harrah's Reno is also definitely worth your while.
Lake Tahoe sportsbooks are also in high demand, with the Hard Rock Lake Tahoe and Harvey's Lake Tahoe offering two of the most visited books. There are other cities in Nevada that have full sportsbooks and/or betting kiosks, such as Carson City, Laughlin, Mesquite, Primm, and Pahrump. Though you have a good chance of finding a local sportsbook no matter where you live in Nevada, there are also a variety of Nevada-legal sports betting apps that allow you to wager from virtually anywhere in the state.
Are Online Sportsbooks Legal For Nevada Residents?
We're glad you asked! The simple answer to the question is now a resounding "YES" thanks to State Assembly Bill 114 which was passed back in February of 2013. This is the bill that allows the state to regulate online gambling, sports betting included, so that Nevada could get its share of any taxable online gambling revenue.
While this bill first went into effect for other forms of online gambling, mobile sports betting apps were soon to follow. Technically, only mobile apps are currently legal under NV law, not actual sports betting websites. These apps connect with servers hosted on licensed sportsbook grounds (typically in casinos), allowing you to wager at a given book regardless of where you are in the state. Other venues have apps that are limited only to their physical properties, so you still have to be on-site to use them. Because of these and a few other reasons, we highly recommend offshore sportsbooks, as these allow NV residents to wager on a massive variety of sports without having any of the limitations of state-based online or land-based betting.
Legal Nevada NFL Betting
NFL betting in Nevada will undoubtedly grow to even higher heights with all of the many ways to place bets on games. No matter where you live in NV and no matter what your daily schedule is like, however, you can legally bet on NFL games at reputable, long-standing sites like BetOnline, SportsBetting, and MyBookie. This is especially useful as the Super Bowl is fast approaching, and Nevada will be the epicenter of a legal NFL betting overload when the biggest betting event of the year kicks off.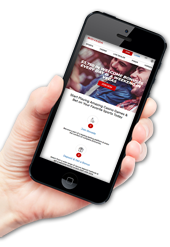 Nevada Sports Betting Apps
In Nevada, sports and NFL betting has been around for a long time. Having mobile betting now only increases the traffic of bettors now. You can now place wagers on your phone depending on what online sportsbook you have an account with whether Nevada-licensed or offshore-regulated. This is actually easier than going to local sportsbooks and the betting lines are much better on these online sports betting sites. Now you don't have to leave your bed to place a bet on the upcoming Sunday night football game using a mobile device. That also means you don't have to rush home to go get on your account as you can do that while you have your mobile device on your hip.
Live Betting In Nevada
Live Betting is also available for those betting on the NFL in Nevada. Live betting provides the opportunity to bet on the sports and horse racing while they are going on. The bets can range anywhere from what team will score next to the next player to draw a flag. The odds will change or update when the game stops which allows players to benefit off big plays and switches in momentum that can have a big impact on the game. With the new Las Vegas Raiders playing in the state, NFL bettors can take advantage of this feature with state-regulated and offshore sportsbooks.
Legal College Football Betting
There aren't too many NCAA programs of note in Nevada, but the UNLV Rebels are probably the most popular team in the state for collegiate sports fans and bettors alike. However, their main rival, the Nevada Wolf Pack, always prove a challenging opponent in the two teams' annual Battle for Nevada, where the victor takes home the Fremont Cannon. It is, after all, college football's largest, most badass trophy – and how(itzer)!
Of course, since you're in Nevada, you're never just limited to the NCAA's Mountain West – you can enjoy legal college football betting on any team in the country at casinos all over the state. As for those of you living elsewhere (or those of you who simply can't make it to a proper casino every time you wish to wager), legal online sportsbooks offer all of that Las Vegas action from the convenience of your own home.
Best Nevada Sportsbook Deposit Methods
One of the main benefits to wagering at legal offshore sportsbooks instead of in Nevada casino sports betting lounges is that the online sites offer a host of different payment options. The best NV sportsbook deposit methods you'll find at in-state books are going to be cash, casino chips, or card payments. However, cryptocurrencies like Bitcoin and other altcoins are not supported by most (if not all) Vegas venues, while these are the preferred payment avenues at overseas sportsbooks. Because of the volatile crypto marketplace, you can really use this funding method to your benefit!
Fastest Nevada Sportsbook Withdrawals
If you're gambling on sports in a Nevada casino, you'll typically be paid out in a check that you can then deposit or cash (or trade for chips if you'd like to enjoy some slots or table games). This is certainly convenient, and it's not something you can do quite so quickly at online sportsbooks. However, overseas payouts are getting faster and better all the time, and the best way to claim your winnings at such sports betting sites is to use Bitcoin (or altcoins like Ethereum, Litecoin, Bitcoin Cash, DASH, Cardano, Stellar, or any other supported cryptocurrency). If you wish for your offshore bookie to pay you via more traditional means (check, money order, bank wire, etc.), that is also possible, but these come with processing fees and can take several days to show up stateside.
Nevada Sports Betting & Gambling Laws
Nevada first legalized gambling in 1931 with NV AB 98 , also known as the Wide Open Gambling bill. Signed by then-Governor Fred B. Balzar, the act essentially opened the door to the traditional casino gaming we know today. It was in 1949 that the state legalized sports betting, with the original sportsbooks of the era called Turf Clubs.
The majority of Nevada sports betting laws can be found within NRS Chapter 463. NRS 463.022 created the Nevada Gaming Commission, the board that handles all regulatory aspects of gambling in the state. NRS 463.0193 defines a "sports pool" as the business of taking wagers on sporting events, which is what is known as a sportsbook.
In a nutshell, the gambling laws in Nevada make it legal to bet on sports and casino games. You can explore NRS Chapter 463 to learn more about specific sports betting laws in Nevada.
Legal Gambling Age For Nevada Residents
The gambling age in Nevada is firm. You have to be 21 years of age in order to play any form of gambling. NRS 463.350 spells this out explicitly. If you decide to gamble under the age of 21, you could ultimately get in trouble - either a ban from all gambling locations in the state, the total confiscation of your money, or both. (Of course, all commercial venues in NV are pretty good about not letting underage persons onto their gaming floors in the first place.)
Land Based Gambling In Nevada
If there is anything that Nevada is known for, it's gaming. There are hundreds of casinos, poker rooms, and sportsbooks scattered around the state, offering nearly infinite options for almost any kind of gambling. All of the sportsbooks in Nevada have the latest odds on NFL, NBA, MLB, NHL, and NCAA sports. You will find tons of TVs, lounge areas, and wall-sized displays that show the current betting lines as well as all the games of the day. We can't list all of these options directly, as there are way too many locations in the state to write about here, but the following are a few of the best sportsbooks in Nevada:
There are also a variety of different online gambling options available, and these are some of the best ways you can participate if you decide to stick to the options at hand.
FAQ About Online Sports Betting In Nevada
1) My online sportsbook advertises live betting. What is live betting, and how is it different from regular betting?
Live betting is the newest, most popular way to wager on sports, and it requires an active Internet connection and a quick trigger finger (or, in the case of mobile devices, a quick trigger thumb). Unlike traditional betting, with live betting – aka in-game betting – you can wager on games as the action unfolds in real time, with odds updating every few seconds to reflect the trends of the game. Live betting is the most immersive way to watch and wager on sports.
2) Why can't I find any official apps for these offshore Nevada sportsbooks in the App Store?
Unfortunately, due to various corporate policies at both Apple and Google, you will not be able to find any SportsBetting, BetOnline, or MyBookie apps (or any other major offshore sportsbook apps) for your iPhone or Android device. However, you can still enjoy mobile betting simply by visiting your sportsbook of choice in your mobile browser. All the best overseas sports betting shops have responsive, small-screen-optimized mobile interfaces that make wagering more efficient and convenient than ever before.
3) My gambling site advertises that it accepts 18-year-old players. Can I participate at this age?
No. You have to be 21 under the state's rules. While you could sign up, there may be complications when it comes time to receive your payouts, as you'll have to prove your age. You could also face fines from the state if you're discovered to have gambled underage at offshore sportsbooks. It's just not a good idea.
4) Is Bovada legal in Nevada?
Nevada residents CANNOT use Bovada. The residents of NV have other online options to pick from, but at this time Bovada does not accept any new players from the Silver State. If you live in Nevada, please do not try to use a VPN service to "trick" the site, as VPN use is a violation of Bovada's terms of service.
5) Has anyone ever been charged for gambling online in Nevada?
No. We have never heard of any player being arrested for gambling online in the state of Nevada. While offshore sportsbooks are not considered part of NV's official gambling marketplace, it is not against the law to use such books.
6) Are these gambling sites safe in spite of the fact that the Nevada government does not regulate overseas Internet gambling?
Yes. We have tested these sites in order to make sure they meet the highest standards in the online betting community, and we only recommend the best Nevada sportsbooks with the longest operational histories and reputations for exceptional customer service.
7) Where can I find the Nevada state statutes?
You can find the most up-to-date Nevada state statutes here. There are other sources for these laws online that might be a little easier on the eyes, but it's always best to confirm all laws with NV's official legislative documents at the above link.
8) Why do USA online sportsbooks accept Nevada residents if it is technically a crime to participate?
It is not technically a crime to use offshore sportsbooks in Nevada. This, more than anything, is a misconception promoted by the local gaming industry. The offshore sportsbooks you have access to as a Nevada resident operate wholly outside of both US and NV jurisdictions. Meanwhile, individual bettors are not criminalized at the state or federal level for placing wagers through any avenues, including at offshore betting sites.
9) Is it true that making payments to offshore gambling sites is illegal?
Absolutely not. Under federal law (specifically the UIGEA of 2006), it is only a crime for domestic banks and financial institutions to mask payments related to online gambling - the player is not liable for anything related to sports wagering over the Internet in Nevada.
10) Does the Supreme Court ruling have any impact on Nevada?
The Supreme Court ruling has no direct impact on sports betting in Nevada. Being that the state was already exempt from PASPA, striking the law down has no local effect on the products and services that NV sportsbooks are able to offer. The only potential impact is that other states might begin to cannibalize some of the money that Nevada was making when it had a monopoly on sports wagering. Still, since Nevada sportsbooks were already well-established and offer destination-style tourist amenities, it is predicted that the overall financial impact will be minimal.