Pahrump, Nevada Sportsbooks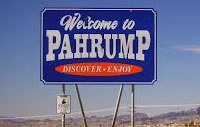 Pahrump sportsbooks often get overlooked (just like your old man's posterior!), but this old town is still a solid little hub for sports betting in Nevada. Pahrump is located about an hour west of Las Vegas and offers a different type of sports wagering atmosphere than that available in Sin City. In Pahrump, you can bet on the Vegas Golden Knights at the locals' favorite sportsbooks and then head out to explore the city's hidden treasures. Sports betting in Pahrump is just as exciting as wagering along the Vegas Strip, just with the backdrop of beautiful Southern Nevada unblemished by the bright lights you're used to next door. The bookmakers in Pahrump accept bets on the most popular teams, and they post the latest betting lines on all of the major sports markets in the US and abroad. There may not be quite as many sportsbooks in Pahrump to choose from, but you'll still get the same thrill every time you place a bet.
If you want to know where the best sportsbooks in Pahrump, Nevada, are located, we can point you to them. Whether you're a resident or just passing through, you will have no problem finding a place to bet on sports in Pahrump. We can also shed some light on the current legal climate of sports betting in the city, which will help you understand more about Pahrump sports betting in general. By the time you finish reading this brief primer, you should have a full grasp of Pahrump sportsbooks and sports betting in Nevada.
Best Nevada Sports Betting Sites - 100% Trusted + Safe
Is Sports Betting Currently Legal In Pahrump, Nevada?
Many people are not aware that sports betting is 100% legal in Pahrump. When most people think of gambling in the Silver State, they think of Vegas, but sports betting is actually legal in all NV municipalities. Unlike most states, Nevada chose to legalize all forms of gambling at once with the Wide Open Gambling Bill of 1931. Though sports betting had taken place for years in the state, Nevada began to regulate sports betting in 1949. It was the only state do so during the era, which is part of why the NV sports betting market has thrived over the years.
Another reason that Nevada is the gold standard for mainstream sports betting is that it was legally impossible for any other state to even attempt to offer the same types of sports wagering products that are offered in NV. The Professional and Amateur Sports Protection Act of 1992 (PASPA) was a federal law that banned state governments from issuing new sports betting licenses or operating sportsbooks. As Nevada had legalized sports gambling decades before, it was exempt from the law. The same went for Delaware, Oregon, and Montana for their preexisting sports lotteries, though these states were not empowered to offer the same full-service wagering that NV allowed.
On May 14th, 2018, the US Supreme Court ruled that PASPA was unconstitutional, therefore ending the prohibition on sports betting across the nation. The landmark decision in Murphy vs. NCAA (also called the New Jersey sports betting case) brought major changes to the sports betting industry, but it's business as usual for Pahrump sportsbooks. Nevada has had legal sports gambling for decades and will continue to offer sports betting in Pahrump and other cities going forward.
What Is The Age To Bet On Sports In Pahrump, Nevada?
In order to bet on sports in Pahrump you must be at least 21 years old. The sports betting age at Pahrump sportsbooks is consistent with the age requirement at Las Vegas sportsbooks, Henderson sportsbooks, Reno sportsbooks, and all of the other sportsbooks in Nevada. This is because the Nevada gambling age applies to all establishments that offer gambling, regardless of their locations. Always carry proper ID in order to verify your age when visiting sportsbooks in Pahrump, Nevada.
Best Sportsbooks In Pahrump, Nevada
The best sportsbooks in Pahrump for Nevada sports betting are open 365 days a year. When you want to bet on the Vegas Golden Knights, Reno Aces, or any other sports team, you can just visit your favorite Pahrump sportsbook and place your bets. Bet on your team straight-up or parlay your picks for a larger potential payout. There is a mix of smaller and larger sportsbooks in Pahrump, all of which have fun sports betting atmospheres. State-of-the-art sportsbooks with high-definition televisions, monitors, and betting kiosks make wagering an exciting, engrossing experience. Don't forget about drinks and food while you wager, though, as these will be readily available at the leading Pahrump betting parlors. The best sportsbooks in Pahrump, NV, are listed below.
Pahrump Nugget

Address:

681 NV-160, Pahrump, NV 89048

Phone:

(702) 386-7867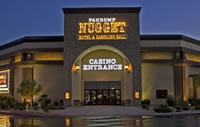 The sportsbook at the Pahrump Nugget is the largest in Pahrump, Nevada. The sportsbook is managed by William Hill, one of the leading bookmakers in the world. The 3500-square-foot sportsbook has a 165-inch HD projection screen and 46 HD televisions for your viewing pleasure. Sports enthusiasts will be able to wager on the latest betting lines for NFL, NHL, NBA, MLB, and NCAA matchups. Additional sports markets include boxing, golf, and motorsports, as well as dozens more. The Pahrump Nugget Sportsbook also has a bar with multiple slot machines and plenty of menu items. If you don't want to hang out in the full-service sportsbook, of course, you can also use the sports betting kiosks that are located throughout the property.
The Pahrump Nugget has one of the best Pahrump sportsbooks, but you can also take advantage of much more. If you are interested in the casino as well, you will find numerous gaming options on the 60,000-square-foot main gaming floor. There are 520 machines housing the hottest slots and video poker titles, plus the casino also has classic games like poker, blackjack, roulette, craps, and Texas Hold 'Em. After you play, you can even book a room at the 69-room Pahrump Nugget Hotel. Eat at Stockman's Steakhouse or Golden Harvest Café, depending on your mood (or your bankroll!).
Saddle West Hotel & Casino

Address:

1220 S. Highway 160 Pahrump, NV 89048

Phone:

(800) 433-3987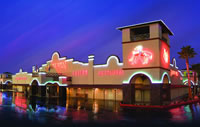 Saddle West has the second largest casino in Pahrump, Nevada. It is also another of the many NV sports betting locations that has a sportsbook managed by William Hill. Bettors can wager on pro football, college football, baseball, hockey, MMA, boxing, basketball, auto racing, soccer, and more when visiting this Pahrump sportsbook. There are many ways to wager, with straight moneyline, point spread, total, teaser, and parlay bets accepted. The Saddle West sportsbook also has InPlay wagering, which allows you to bet on live, adjusted moneylines, totals, and spreads as the action unfolds during each and every featured contest.
Not only is Saddle West home to one of the top Pahrump sportsbooks, the venue also has an excellent casino. Saddle West has some of the hottest casino gaming in the area, with daily bingo, the newest slots, and a variety of electronic table games. The resort itself features a hotel and RV park, both of which offer plenty of amenities. Hungry? You can enjoy breakfast, lunch, or dinner at the Silver Spur Buffet. When you want a place to bet on sports in Pahrump, play a few slots, and have a high-quality meal, Saddle West should be one of your primary go-tos.