Reno, Nevada Sportsbooks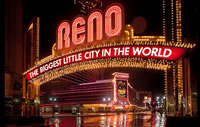 Even those who don't live in Nevada have heard of Reno sportsbooks. Residents of the state are able to experience some of the best sportsbooks in Reno on a daily basis, while there are also hundreds of thousands of tourists that visit the city each year. Reno is often called the "Biggest Little City in the World", and this is due in large part to all of the entertainment and gambling action that takes place here. In this regard, Reno is second only to Las Vegas in the entire state – and perhaps the country! For NCAA fans, Reno is home to the Nevada Wolf Pack, and the Reno Aces – who are minor league baseball affiliates of the Arizona Diamondbacks – also call Reno home. Residents and visitors can bet on these teams at Reno sportsbooks, but they also have the option to bet on any other popular team and sport as well. In total, there are 14 different locations for sports betting in Reno, Nevada.
If you are a resident looking for new Reno sportsbooks to visit, we can give you some suggestions. If you are visiting the area and want to know which casinos offer the best sportsbooks in Reno, Nevada, we can help with that, too. Plus, with all of the changes to the legal climate of sports betting in the United States, many fans and potential bettors are wondering if and how this has impacted sports betting in Nevada. To that end, we answer a few commonly asked questions surrounding the legality of Reno sportsbooks, and we also give you some details on your best wagering options with local bookmakers.
Best Nevada Sports Betting Sites - 100% Trusted + Safe
Live In-Game Betting In Reno
One of the best features of modern sports betting is live in-game betting. For those unaware, live betting refers to odds that sportsbooks offer during the game that change to reflect the action in the game. Thanks to the advancements of modern technology, live betting has become a ubiquitous part of any advanced sports bettor's arsenal. With live betting, you are never out of the game since there is always more opportunity to bet. If a team is up big late, you can throw some money on them to win, albeit with extremely low profit. Likewise, you can bet on the underdog to come back at any moment.
Live betting allows bettors tons more opportunity to win, including great chances to hedge your bet or double down. The sportsbooks in Reno will have live betting options, but the easiest way to live bet is with the online international sportsbooks. All of the sportsbooks we feature have full live betting suites that can handle any and all requests. If you haven't already, be sure to check out the live betting offers next time you log on to your online sportsbook.
Can I Bet On My Phone In Reno?
Since Reno has so many state-sponsored betting options, there are also tons of mobile betting apps available to download. Depending on which casino you want to use, you can choose from any of the Reno retailers that offer apps like Peppermill Casino or Atlantis. If you are looking for an alternative option with different odds then the international online sportsbooks are still available.
Is Sports Betting Currently Legal In Reno, Nevada?
Sports betting is currently legal in Reno, Nevada, has been for decades, and probably always will be. Reno sportsbooks have been around since the 1950s, established in their current form after the state started to regulate the sports betting market. You may have heard of the Professional and Amateur Sports Protection Act of 1992 (PASPA), but the recently-overturned law has never had an impact on gaming activities in the state of Nevada. That's because NV was the only state to be fully exempt from the law due to having previously legalized single-game (i.e. full-service) sports gambling. In part as a result of PASPA, Nevada became known as the gambling mecca of the United States, as it was the only state with full-scale wagering options for more than 25 years.
Sports betting in Reno, Nevada, will likely only continue to expand, with the state keeping up to date with the latest technology and innovations. Both land-based and mobile sports betting is legal in Reno, and the city and state have not barred offshore books from being accessed, either. Your sports wagering options are truly unlimited in Nevada, and Reno is the second most popular market for sportsbooks in the state.
What Is The Betting Age In Reno, Nevada?
The minimum legal age for sports betting in Reno, Nevada, is 21 years old. The gambling age at Reno sportsbooks is standard throughout the state of Nevada (as well as the majority of the United States), as gambling ages seem largely based on drinking ages – which makes sense, given how frequently the two go together. (A word of advice: sort out and submit your wagers before you get hammered in Reno, okay?) When you enter a sportsbook in Reno, you will need to show your ID to verify your age. Underage gambling is a serious offense that could result in being banned from NV gaming establishments, so it's never a good idea to risk it. This extends even to offshore books that only require you to be 18 in order to sign up and wager. To be on the safe side, wait till you're 21 no matter which betting venue you choose.
Best Sportsbooks In Reno, Nevada
The best sportsbooks in Reno, Nevada are those that have a wide selection of sports betting odds. Whether they're standard daily lines, player and team props, championship odds, division odds, conference odds, or season win totals, you should be able to find them all at the best Reno sports betting destinations. The top Reno books will also have free Wi-Fi, lots of comfortable lounge-style seating, and video walls featuring the day's marquee games. The venue may even have cocktail service and food service depending on where you wager.
The best Reno sportsbooks also have mobile betting apps for more flexible wagering. While there are quite a few Reno sportsbooks to choose from for sports betting in Nevada, here are some the bookmakers that consistently receive high ratings. You may also want to check out some of the nearby Carson City sportsbooks, too.