Reno, Nevada Sportsbooks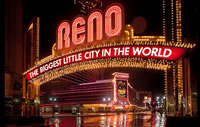 Even those who don't live in Nevada have heard of Reno sportsbooks. Residents of the state are able to experience some of the best sportsbooks in Reno on a daily basis, while there are also hundreds of thousands of tourists that visit the city each year. Reno is often called the "Biggest Little City in the World", and this is due in large part to all of the entertainment and gambling action that takes place here. In this regard, Reno is second only to Las Vegas in the entire state – and perhaps the country! For NCAA fans, Reno is home to the Nevada Wolf Pack, and the Reno Aces – who are minor league baseball affiliates of the Arizona Diamondbacks – also call Reno home. Residents and visitors can bet on these teams at Reno sportsbooks, but they also have the option to bet on any other popular team and sport as well. In total, there are 14 different locations for sports betting in Reno, Nevada.
If you are a resident looking for new Reno sportsbooks to visit, we can give you some suggestions. If you are visiting the area and want to know which casinos offer the best sportsbooks in Reno, Nevada, we can help with that, too. Plus, with all of the changes to the legal climate of sports betting in the United States, many fans and potential bettors are wondering if and how this has impacted sports betting in Nevada. To that end, we answer a few commonly asked questions surrounding the legality of Reno sportsbooks, and we also give you some details on your best wagering options with local bookmakers.
Best Nevada Sports Betting Sites - 100% Trusted + Safe
| | | | | |
| --- | --- | --- | --- | --- |
| | | 50% Up To $1,000 | VISA, Bitcoin, Cash Wire | |
| | | 50% Up To $1,000 | Bitcoin, Wire Xfer, VISA | |
| | | 100% Up To $300 | VISA, Bitcoin | |
| | | 50% Up To $520 | Western Union, VISA | |
| | | 100% Up To $500 | VISA, Bitcoin, Checks | |
Is Sports Betting Currently Legal In Reno, Nevada?
Sports betting is currently legal in Reno, Nevada, has been for decades, and probably always will be. Reno sportsbooks have been around since the 1950s, established in their current form after the state started to regulate the sports betting market. You may have heard of the Professional and Amateur Sports Protection Act of 1992 (PASPA), but the recently-overturned law has never had an impact on gaming activities in the state of Nevada. That's because NV was the only state to be fully exempt from the law due to having previously legalized single-game (i.e. full-service) sports gambling. In part as a result of PASPA, Nevada became known as the gambling mecca of the United States, as it was the only state with full-scale wagering options for more than 25 years.
Sports betting in Reno, Nevada, will likely only continue to expand, with the state keeping up to date with the latest technology and innovations. Both land-based and mobile sports betting is legal in Reno, and the city and state have not barred offshore books from being accessed, either. Your sports wagering options are truly unlimited in Nevada, and Reno is the second most popular market for sportsbooks in the state.
What Is The Betting Age In Reno, Nevada?
The minimum legal age for sports betting in Reno, Nevada, is 21 years old. The gambling age at Reno sportsbooks is standard throughout the state of Nevada (as well as the majority of the United States), as gambling ages seem largely based on drinking ages – which makes sense, given how frequently the two go together. (A word of advice: sort out and submit your wagers before you get hammered in Reno, okay?) When you enter a sportsbook in Reno, you will need to show your ID to verify your age. Underage gambling is a serious offense that could result in being banned from NV gaming establishments, so it's never a good idea to risk it. This extends even to offshore books that only require you to be 18 in order to sign up and wager. To be on the safe side, wait till you're 21 no matter which betting venue you choose.
Best Sportsbooks In Reno, Nevada
The best sportsbooks in Reno, Nevada are those that have a wide selection of sports betting odds. Whether they're standard daily lines, player and team props, championship odds, division odds, conference odds, or season win totals, you should be able to find them all at the best Reno sports betting destinations. The top Reno books will also have free Wi-Fi, lots of comfortable lounge-style seating, and video walls featuring the day's marquee games. The venue may even have cocktail service and food service depending on where you wager.
The best Reno sportsbooks also have mobile betting apps for more flexible wagering. While there are quite a few Reno sportsbooks to choose from for sports betting in Nevada, here are some the bookmakers that consistently receive high ratings. You may also want to check out some of the nearby Carson City sportsbooks, too.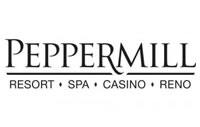 Peppermill Reno

Address:

2707 S Virginia St, Reno, NV 89502

Phone:

(775) 826-2121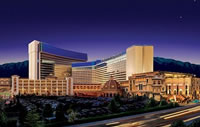 Peppermill Reno's Race and Sportsbook is without a doubt one of the most popular in the area. The sportsbook just underwent a $3.5 million renovation in order to ensure that patrons have the most exciting sports betting experience possible. You will find that the venue has the largest LED display of its kind in the country, airing up to 30 different games at once with 5k capabilities. There are also a whopping 60 betting carrels with 24-inch HDTVs, and the venue has 8 different 10' x 6' HDTVs located in another area, all broadcasting the most popular games of the day.
The wagering menu at the Peppermill sportsbook includes NFL, MLB, NHL, NBA, and NCAA sports, with a wide variety of wager types accepted. Place a straight moneyline, total, point spread, or teaser bet with ease, and pick from a huge menu of propositions. You can even build your own parlay wagers to maximize your potential income. There are 9 express betting windows for quick and convenient wagering, and cocktail waitresses are always available to take drink orders while you wager and watch. The Peppermill even provides comps based on tracked wagers! The Sportsbook at Peppermill Reno has been voted the Best Race and Sports Book by Casino Player Magazine, and you can visit the book at any time, year-round!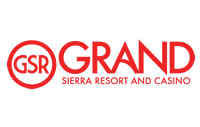 Grand Sierra Resort and Casino

Address:

2500 E 2nd St, Reno, NV 89595

Phone:

(775) 789-2000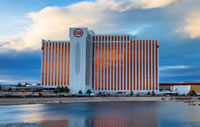 The William Hill Race and Sports Book at the Grand Sierra Resort is one of the best Reno sportsbooks. The 14,200-square-foot betting lounge has more than 130 televisions to display the latest odds and sporting events. The space can accommodate over 600 bettors comfortably, with seats surrounding the bar and high top-tables throughout, as well as plenty of sofas and lounge chairs. The Grand Sierra racebook does share the floor with the sportsbook, but it's a good arrangement, and there is a wagering counter that divides the lounge in half and specifically caters to sports bettors. There are also VIP rooms that come with their own private ticket writers.
The full-service Grand Sierra sportsbook allows patrons to wager on all of the most popular sports – and then some! Sports categories include pro and college football and basketball, baseball, hockey, soccer, boxing, MMA, auto racing, golf, tennis, and more! Bet on futures, props, straight moneylines, point spreads, totals, and more, and enjoy in-game live wagering, which makes your wagering experience even more exciting. There are also mobile betting promos and other rewards that you can take advantage of just by enrolling in the Grand Sierra's Spring Rewards program.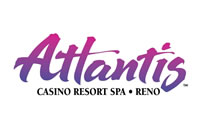 Atlantis Casino Resort Spa

Address:

3800 S Virginia St, Reno, NV 89502

Phone:

(775) 825-4700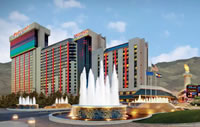 For the best sports betting action in Reno, visit the Atlantis Race & Sports Book. Atlantis is known for having the highest paying parlay cards in all of northern Nevada, and they don't stop there. You can bet 8-cent baseball lines, 10-cent hockey lines, first half lines, and even halftime betting lines in addition to the standard lines available on all the top national and global sports. Some of the specific betting options include college football futures, NFL conference odds, UFC odds, first five innings lines, and MLB pennant odds. You can also use the Atlantis Race & Sports Book App for easy access to the same betting options from virtually anywhere in NV (though the app is geo-fenced, meaning that you have to be physically within Nevada borders to use it).
If it's a major sporting event, you can definitely bet on it at the Atlantis Sportsbook. This book is also the first non-smoking sportsbook in the area, which was considered revolutionary at its time. You can watch games from any of the venue's 75+ high-definition TV screens. If you want more privacy, you can sit at a personal betting station, which is equipped with DirecTV and Internet access. The Atlantic Casino Resort Spa also boasts a new Sports Bar & Lounge where patrons can unwind. The bar serves more than 90 different whiskeys along with specialty cocktails, which makes it perfect for celebrating wins and forgetting losses! There are also food items available from the nearby Manhattan Deli, as you should never drink – or bet – on an empty stomach.