Primm, Nevada Sportsbooks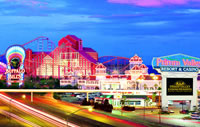 Primm sportsbooks not only attract action from local residents, but they bring in a diverse crowd of nearby visitors as well. Located right on the border of Nevada and California (nearly due west of Las Vegas), bettors often visit sportsbooks in Primm to wager before they head to Vegas or to get in their last-minute bets before driving into Southern California. No matter your reason for visiting, you will find all of the sports betting action that you are looking for in this tiny border town. There are three sportsbooks in Primm all of which are owned by Affinity Gaming. One of the main perks of sports betting in Primm is that each sportsbook offers something different. While they each have the same betting lines on all of the popular sports markets, the venues all ensure that bettors have a genuinely fun sports betting experience.
It is relatively simple to get started with sports betting in Primm, Nevada, once you know where to go. You never have to worry about issues of legality (as sports betting has been legal in the Silver State for nearly a century), but we can discuss the background of sports betting in Nevada for clarity. We've also got reviews of the best sportsbooks in Primm, Nevada, for when you want to bet on the most pressing action of the day.
Best Nevada Sports Betting Sites - 100% Trusted + Safe
Is Sports Betting Currently Legal In Primm, Nevada?
Sports betting is currently legal in Primm and has been decriminalized for well over 75 years. The state made nearly every form of gambling legal throughout the NV in 1931. Then, the Nevada Legislature started to regulate the sports betting market in 1949. This is when commercial sports betting as we know it began, though the first sportsbooks were called Turf Clubs. For decades, Nevada held a monopoly on the sports betting market, with sportsbooks in Primm, Las Vegas, Lake Tahoe, Henderson, Pahrump, Reno, and other cities.
This was possible because in 1992, the passage of the Professional and Amateur Sports Protection Act (PASPA) all but solidified Nevada's claim to being the gambling capital of the USA. PASPA prohibited any other state from offering single-game sports wagering. Even exempted states like Montana, Oregon, and Delaware could only offer their sports lotteries and sports tabs games, leaving full-service sports wagering entirely within Nevada's domain.
In 2018, however, the US sports betting market made a monumental shift. In Murphy vs. NCAA, the Supreme Court ruled that PASPA was unconstitutional, thereby lifting the 25-year ban on sports betting. Now, each state can legalize the same type of sports gambling that was once only available in NV. This does not negatively impact Primm sports bettors, as Nevada was the first state to legalize sports betting and remains in the vanguard. Residents can always count on Primm sportsbooks to offer legal wagering, and given renewed competition from non-NV states, Primm's books could get even better in the near-term future.
What Is The Betting Age In Primm, Nevada?
You have to be 21 and older to place your sports wagers here in Primm. This is the age that is required in most places around the country. Having proof of your age is needed. The online sportsbooks will allow people to sign up if they are over the age of 18, but that's not a get out of jail free card. You are still subject to the laws of the state, and that means that if you are caught gambling underage, you will be liable for legal penalties, in addition to having your winnings likely confiscated by the sportsbook you were using. Don't gamble underage - we know the Raiders just came to Vegas and it's exciting, but please do not get over excited and break the law.
Best Sportsbooks In Primm, Nevada
All of the best sportsbooks in Primm are a part of the Primm Valley Casino Resorts family. This means that no matter where you play, there is always an option to stay overnight. The sportsbooks in Primm offer the latest betting odds on NFL, NBA, NHL, and NCAA sports, and international action is on hand, too. You will find a wide array of wagering options and an extremely comfortable atmosphere at any of Primm's three books. You can wager on anything from the NFL to the Kentucky Derby when using them.
In addition to the local sportsbooks, the online sportsbooks that are located offshore are excellent for betting in Primm, NV. These online sportsbooks might actually be a bit better now that there is a hometown team for the local sports bettors to wager on. They are well worth checking out, and you can find a table of great online sportsbooks higher up on this page.
The following are the Primm, NV, sportsbooks that you can visit for the best Nevada sports betting action on the California border.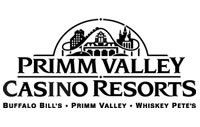 Primm Valley Resort & Casino

Address:

31700 Las Vegas Boulevard Primm, NV 89019

Phone:

(702) 386-7867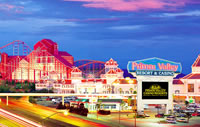 Primm Valley Casino was the second of the Primm Valley Resorts, established in 1990. The casino is expansive, with almost 34,000 square feet of gaming space. When you hit the casino, you will find a total of 773 slot machines covering the classics along with the latest slot titles. Those that prefer blackjack, craps, roulette and etc. will love the table games at Primm Valley. There are more than 70 of these to choose from, and PVC is one of the only casinos with a bilingual pit (English and Spanish).
Sports enthusiasts will also appreciate the William Hill Race & Sportsbook at Primm Valley. The sportsbook has everything that you'd expect from William Hill, including the latest betting lines on popular sports and an impressive wagering menu. As it is a favorite among locals, you are sure to have an exciting time when you visit the Primm Valley Resort & Casino bookmaker. Of course, it's not just a local favorite – the book at Primm Valley Casino is rated as the best sportsbook in Primm, Nevada.
Primm Valley also has some of the best dining options of all Primm sportsbooks, as you can visit GP's Steakhouse, Primm & Proper, or the Country Club Buffet. Being that there are also two other casinos on the property, other dining options are in close proximity as well.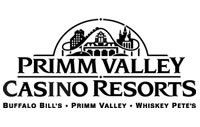 Whiskey Pete's

Address:

31700 Las Vegas Boulevard Primm, NV 89019

Phone:

(702) 386-7867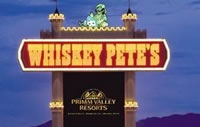 Whiskey Pete's was the first of the Primm Valley Resorts, with the casino opening in 1977. The venue has been renovated several times, most recently with a new 777-room hotel tower. One of the most unique aspects of Whiskey Pete's is their 700-seat showroom, along with the homage to Bonnie and Clyde that sits in the main lobby. The Western-themed casino resort has a 36,400-square-foot gaming floor that offers plenty of slot machines and table games. In total, there are about 600 slots at Whiskey Pete's, and the casino games offered include blackjack, mini-baccarat, craps, and poker, among several others.
At Whiskey Pete's, there is also an intimate sportsbook where sports enthusiasts can wager on football, basketball, baseball, hockey, boxing, and other popular events. With several monitors and a bar, those wagering at the Whiskey Pete's sportsbook will have a great time placing a few bets on the day's top games. If you want to grab a bite to eat during your visit, there is a Panda Express and a house-branded pizza restaurant located on the gaming floor of the casino. Of course, the main food selection features the other Primm casino venues' restaurants, too, as they're all on the same overarching property.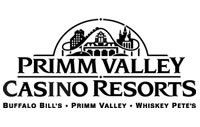 Buffalo Bill's

Address:

31700 Las Vegas Boulevard Primm, NV 89019

Phone:

(702) 386-7867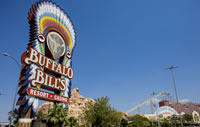 Buffalo Bill's is one of the most exciting sportsbooks in Primm, Nevada. In case you didn't know, the casino property is home to The Desperado roller coaster, which, while not affiliated with the hit movie starring Antonio Banderas, is one of the tallest and fastest roller coasters in the world. Buffalo Bill's is also where you can find the Star of the Desert Arena, which is a 6,500-seat venue that regularly hosts the best entertainment in Primm.
Opened in 1994, Buffalo Bill's has undergone several major renovations. With 61,372 square feet of gaming space, more than 1700 slot machines, and all of the traditional table games you expect, you will never run out of things to do while at the casino. And on top of all that, of course, is the sports betting.
The sportsbook at Buffalo Bill's is very similar to that at Whiskey Pete's. The betting odds will be the same, but you will find the environment to be slightly different. There are several big-screen televisions, so you'll have no problem watching games and staying up on the action. You can bet straights, totals, parlays, futures, propositions, and more on all of the major sports leagues. Other sports to bet on include golf, boxing, and NASCAR, just to name a few. Like its sister sportsbooks, the Buffalo Bill's venue is partnered with William Hill, so you'll always get some of the most valuable, carefully crafted lines and odds in the industry.