Offshore Sportsbooks Exceed Nevada Betting Revenues In 2017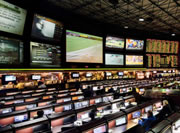 For those that doubt the appeal of a legal option for sports betting on the internet, look no further than the recent revelation of the dollar amount taken in by overseas-based operators last year compared to the offerings on the Las Vegas Strip.
Sportsbook and casino wagering sites based in foreign countries that serve US sports bettors prevented by law from having access to domestic betting shops outside Nevada hauled in $150 billion in 2017 according to the Wall Street Journal in a recent article (which is, unfortunately, behind a paywall). Compare and contrast that with the $140.2 billion in handle Nevada's entire casino, sportsbook, card room, slot parlor and racino industrial complex accrued in the 12 months prior to the start of February 2018. This is crucial because that number does not factor in the single biggest single day for sports betting in the US – that of course being Super Bowl Sunday, which fell on Feb. 4 this year.
In that 12-month period, the Nevada betting establishment, which includes more than 300 casinos and 190 sportsbooks around the Silver State but with the most prominent of course being located in Fabulous Las Vegas, retained a reported $11.5 billion in gross revenues. If you use the same handle-to-revenue ratio to calculate the amount of money the offshore operators actually get to keep, then it becomes clear as to why so many state legislatures are looking to enact laws in support of broader sports betting legalization. Simply put, if there was a legal domestic offering for US sports bettors compelling enough to get them turned off of the so-called "black market" betting sites it would be the equivalent to having another Las Vegas' worth of taxable revenues.
The difficult part comes in with crafting legislation that takes care of the various interested parties. The states naturally want to max out their own revenues streams for their respective coffers, the pro sports leagues are angling to get a cut of the action with "integrity fees" – essentially royalties - and the prospective sportsbook operators want to make sure they can attract bettors from across the country. Balancing out these various demands, all while installing sensible and actionable consumer protections takes time, and, as luck would have it, that is what is in shortest supply, as the U.S. Supreme Court justices could return a verdict striking down the Professional and Amateur Sports Protection Act of 1992 (PASPA) literally any day.
SCOTUS could rule as soon as April 2 on whether or not PASPA, which has for 25 years restricted sports betting to Nevada, Delaware, Montana and Oregon (though only Nevada has really run with it and offered a full menu of sports betting), in unconstitutionally limiting the rights of the other 46 states. While that isn't necessarily the time frame in which most analysts expect it will happen, most folks whether on the street or at the major trade publications agree that we could be seeing a major upset in the longstanding sports betting status quo by the middle of this year.
The times are what they are and sports betting, especially online sports betting, is here to stay: the people want it, the various state budget offices seem to be needing it, the casino operators wouldn't mind it too much – so who does that leave? The pro sports leagues. The MLB and NBA, now allies working together to lobby about a dozen states to push for more open sports betting laws, are aiming to get those aforementioned integrity fees, but they also have other demands that are less likely to be met with any resistance.
So far the NFL has been largely silent on the issue of more widespread sports betting legalization, but league Commissioner Roger Goodell is expected to address the topic in a briefing on sports wagering for the team owners sometime before the end of the league's 2018 annual meeting tomorrow. The NFL's only driving concern – at least officially – for the last several years has been to maintain the integrity of pro football competitions and keep them free from game fixing or other gambling rackets. Goodell is expected to add some stipulations to his league's considerations and concessions vis a vis sports betting, but whether he likes it or not the NFL is a major player in this arena, so it only remains to be seen if he will get on board as a stakeholder.
Having the veritable go-ahead from the MLB and the NBA is a huge boon to pro-sports wagering politicians around the country, but the NFL's support is a prize everyone is after, and for good reason. The Wall Street Journal's report only confirms what anybody who follows sports regularly already knows: betting on professional football account for the lion's share of all sports wagering legally and illegally alike. To wit, American Gaming Association data indicated that bets placed on the NFL came in at 37 percent of Nevada's nearly $5 billion in handle, and the percentage is probably only higher for the offshore operators, which don't have to factor in applicable state and federal taxes.
SportsBettingNevada.com knows the trick will be to see if all the concerned parties can make a compelling alternative to the incredibly profitable and entirely unregulated (in the US) offshore sports betting marketplace. US players have been cut off from any home grown betting options for so long, many of them may decide to stick with their overseas sportsbook sites, particularly if online sports betting is not as widely available as brick and mortar bookies needing to factor in extra vigorish to cover tax obligations. Of course, the discussion is entirely academic until the Supreme Court strikes PASPA from the federal legal rolls, but if that day comes – and many observers believe it will in due time – then roughly 20 states are ready with sports betting legislation of their own waiting in the wings.
Best Nevada Sports Betting Sites - 100% Trusted + Safe