Vegas Sportsbooks Have Biggest August Ever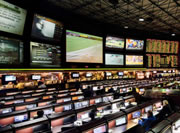 The so-called "Superfight" between Floyd Mayweather and Conor McGregor was the main driving force behind August revenues topping out at $33.9 million – the biggest August ever recorded in Sin City.
The Nevada Gaming Control board released its monthly revenue report to much fanfare late last Friday morning, with all indications pointing to an increase of some $30 million (and a shade over) compared to last August, when Las Vegas' bookies won just $1.9 million. Betting handle was similarly through the ceiling, and shattered a record for the month of August in that respect as well, with $301 million in wagers going way over the year prior, when total bets accounted for $189 million.
Those massive improvements (especially after a slow July), are, as we have already said, due to the much-publicized and highly anticipated fight between the unbeaten Mayweather and his Irish challenger making a pro boxing debut. According to ESPN, that fight brought in $65 million in handle all by its lonesome and roughly 4.6 million viewers tuned in via PPV, although there were an estimated 132 pirated views as well and an uncountable amount was doubtlessly bet at overseas sportsbooks, legal or otherwise.
Also contributing to the big increase in revenue and handle was a major uptick in both football and baseball betting, with the former contributing $32.3 million (an increase of $14 million compared to last August) and the latter chipping in $189.5 million in wagers (up $40 million compared to last year). Nevada's brick-and-mortar betting outlets held on to a combined $15.2 million of the moneys wagered. With all that being said, NFL season is now in full swing, so September could and probably will be even bigger for the Vegas sportsbooks – football season is definitely the overall busiest time for bookies in Nevada and around the world – but a ratings slide and the #TakeTheKnee controversy could stifle that progress for sports betting in Nevada.
Best Nevada Sports Betting Sites - 100% Trusted + Safe