Horse Racing Betting In Nevada
As the United States' primary gambling destination, horse racing betting in Nevada is also extremely popular in the state. Interestingly, however, there are no active racetracks in the state, and every attempt to bring live horse racing to Nevada has been rejected by the community. This is not the result of some "moral grounds" argument or anything like that, of course. Rather, it's because Nevada is in the desert, and outdoor racing venues (particularly in the summer), just don't attract crowds. In other words, the demand simply wasn't there for live horse racing. It turns out that Nevada gambling enthusiasts are much more interested in indoor amusements and air conditioning. And who can blame them?
Still, the industry has history in NV. The Nevada State Racing Commission was put together in the year 1915, and they assembled the initial Nevada horse racing rules and regulations. After a few alterations throughout the years, the commission is still together today, although they finally merged into and became part of the larger Nevada Gaming Control Board (NGCB).
As the years have passed and live horse racing faltered, online horse racing betting in Nevada picked up that slack and ran with it. Betting on horse races online has become as popular as betting on any other sport in the state, and SportsBettingNevada.com is here to help you to understand why. We'll cover all things Nevada horse betting, from the legality behind on-track and off-track betting to the different wager types available at both. And when it comes time to actually place a few wagers, we even have a couple of recommendations for the best online racebooks to check out.

Online Horse Racing Betting Sites
Online horse racing betting in Nevada is absolutely the way to go. There are so many benefits involved that when you really look at it, it's a no-brainer. Using online betting sites saves players a ton of money by cutting out associated travel costs as well as expensive trackside food and drink costs. This isn't to say that an evening at the races at an historic track isn't a blast, but it merely points out that it's not a huge loss from a betting perspective to not have access to live tracks in your town. In fact, it's not a betting loss at all, as the money you save can be put into your wagers and possibly lead to huge payouts you wouldn't have otherwise received.
The best off-track betting sites for Nevada residents are, without a doubt, MyBookie, BetOnline, and SportsBetting. Each of these sites is of the utmost quality and is completely safe and legal to use. You can't go wrong with any of these sites, but signing up for all three is the trifecta of online horse racing betting. For a more in-depth look at each of these destinations, read on!
Best Nevada Racebooks - 100% Trusted + Safe
| | | | | |
| --- | --- | --- | --- | --- |
| | | 50% Up To $1,000 | VISA, Bitcoin, Cash Wire | |
| | | 100% Up To $300 | VISA, Bitcoin | |
Is it Legal To Bet On Horse Racing in Nevada?
Betting on horse racing in Nevada is legal on the state level, as well as the federal level. There are no state or federal laws that prohibit any form of betting on horses in Nevada, so potential players don't need to be worried about anything like that. In fact, there is a federal law called the Interstate Horse Racing Act that essentially gives horse racing an immunity to other federal betting laws like the Wire Act, the UIGEA, and the recently-overturned PASPA.
The UIGEA – or the Unlawful Internet Gambling Enforcement Act of 2006 – only affects the banking methods used in online gambling. The sites we have provided you on this page have plenty of banking options to choose from, however, so the limitations won't prevent you from betting safely. All of the sites we mention on this page are based outside of the United States and operate as 100% legal horse racing sites for Nevada residents.
Horse Racing Wager Types in Nevada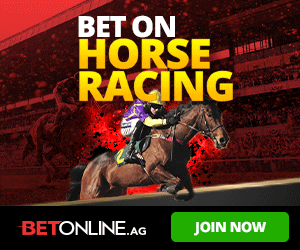 There are three types of wagers when it comes to betting on horses online. You have your straight wagers, exotic wagers, and combination wagers. Luckily for all you beginners, each one is pretty easy to understand.
Straight wagers are bets that you place on individual horses that you think will either win, finish in the top two, or finish in the top three. These are called Win, Place, and Show bets respectively, and they are easily the most popular bets for players who bet on horses in Nevada. However, because horse racing betting is based on the pari-mutuel "pool" model, these are also the least profitable wager types.
Exotic wagers sound more detailed and difficult to comprehend than straights, but they really aren't. In reality, exotic bets are just different variations of the same concept. In other sports, you might call exotic bets "parlays," where you put multiple straight wagers on a single ticket to increase your payout potential. In horse betting, the most common exotics are exacta and trifecta bets. An exacta requires you to pick the first two finishers of the race in order, while a trifecta requires you to pick the first three finishers in order. Superfectas and quinellas require you to pick the first four and five finishers in order, respectively, and typically come with astronomical payouts.
Combination bets comprise the third common horse betting wager type. These are just different mixes of bets between straight and exotic wagers over multiple races. That is, you are betting on multiple races at once. Some examples of different combination bets are Daily Doubles, Pick 3s, Pick 4s, and Pick 6s. These are the hardest bets to win, but they produce some of the biggest payouts you will find in all of horse racing.
Betting On The Triple Crown in Nevada
The Triple Crown is hands down the most recognizable series of horse races in the world, with the Kentucky Derby being the biggest betting draw. Known as "the most exciting two minutes in sports", the Derby produces a huge market for players looking to put money on the ponies. It's one of the most lucrative races in all of horse racing, but the purses are a pittance compared to the amount of money won by the millions of US bettors who put money on the annual event.
The other two races in the Triple Crown are the Preakness Stakes at Pimlico Race Course in Baltimore, MD, and the Belmont Stakes at Belmont Park in Elmont, NY. These are extremely popular to bet on as well, with the Belmont's popularity surging any time there's a Triple Crown contender in the field (i.e. when a competitor has won both the Kentucky Derby and the Preakness Stakes). Triple Crown betting is as good as it gets in the world of horse racing, and all three races are available to wager on at all of the major horse racing betting sites that serve NV residents.
Where To Bet On The 2023 Kentucky Derby In Nevada?
This comes super easy as you can find any 2023 Kentucky Derby odds in Nevada right from your phone with of the online betting sites listed. On those sites, you will be able to bet on any Kentucky Derby odds that you can possibly think of such as odds on the outright winner and plenty of Kentucky Derby prop bets as well. The current odds for the 2023 Kentucky Derby have it as a one horse race with Epicenter heavily favored to win as the only horse with odds under +500.
Where Can I Bet On Horse Racing in Nevada?
There is just one live track you can visit in Nevada, and that is at the Elko County Fair in Elko, NV. Unfortunately for race fans, the track is only open for a couple of weeks per year during the fair, and there aren't always horse races scheduled. The only reliable, consistent way you can physically bet on horse racing in Nevada is to use simulcast betting facilities that broadcast races from elsewhere in the country.
All of the best offshore racebooks also offer nationwide simulcast support, and you can even get a host of international races from the UK and even the Middle East at many of these sites. The best racebooks even offer a number of different perks and rebates for active bettors, making them the premier options for fans of the ponies.