Sports Gambling In Nevada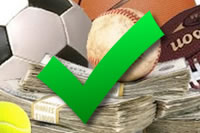 Over the last few years, sports betting in Nevada has slowly become the top gambling activity in the mecca of gambling in the United States that is Las Vegas, Nevada. Poker has been the go-to for decades now but after diving into the Nevada gaming revenue stream, it shows that poker accounts for 1% of the $11.2 billion that goes into gaming in the state, while sports betting accounts for 2%.
This change should be the new norm in Nevada because sports betting is only going to become more and more available as time passes. The Senior Research Analyst for the Nevada Gaming Control Board, Michael Lawton, told Card Player magazine that poker and sports gambling in Nevada will most likely "continue on very different trajectories for some time."
Sports Betting Update
Nearly $232 million in winning sports bets were tallied in 2015 and there was a $4.5 billion handle in 2016, though the win was slightly less than 2015. Michael Lawton touched on this as he continued with his conversation with Card Player saying "On a macro level, the general health of the sports betting industry in Nevada has never been stronger...With ESPN mentioning point spreads and 'bad beats' on their prime time shows, national press stories on expanded Super Bowl propositions along with the unique March Madness experience in Las Vegas, the state continues to see more regional and national tourists seeking out the sports book when they visit properties."
The Professional and Amateur Sports Protection Act, or PASPA, prohibits any sports gambling operations from providing gambling services in the United States but that may not be the case soon. The goal is to allow any state that has legalized casino gaming in the state, to have the option to also decide whether or not they want to provide sports betting too.
We are already starting to see changes taking place and with the digital world that we live in nowadays, you can expect more and more changes to be implemented swiftly. We already have options for legal offshore online sportsbooks but gambling on sports inside of the country is the next step. Stay tuned for more news about sports betting in Nevada as this topic should have plenty of buzz around it for the foreseeable future.
Best Nevada Sports Betting Sites - 100% Trusted + Safe