Nevada Sportsbooks Have Record September As Rising Tide Lifts All Boats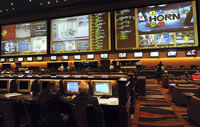 There is an old saying in economics and industry: "a rising tide lifts all boats." There is a new movement in economics and industry: sports betting. However, given that sports betting has been federally decriminalized, the bookmakers and casino properties in Sin City have been worried that all this newfound nationwide competition would hurt their bottom lines. Of course, that's not been the case, and the adage holds true. Yes, Nevada sportsbooks have had a record September, as the rising tide indeed lifts all boats.
With sports betting options cropping up all over the US in states like Delaware, New Jersey, West Virginia, Mississippi, and New Mexico, many industry analysts – particularly those based in Nevada – were all doom and gloom about what they saw as a massive, forthcoming decrease in their sportsbook revenues. However, it seems that the opposite has actually occurred. This past September, over three months after PASPA (the Professional and Amateur Sports Protection Act of 1992) was overturned, Nevada sportsbooks actually posted their best month of business in history (or, at least, since 1984, when sportsbook revenues began to be tracked separately by the state).
With $571 million in total handle – which equates to $56.3 million in revenue – Nevada sportsbooks' September 2018 haul broke the single-month record handle of $565 million (set in October 2017), while the previous record for sportsbook revenue during the first full month of NFL action was $53.3 million, set in September 2012. These are substantial gains, and the outcome may seem surprising for some, particularly given that the NFL – traditionally the biggest betting catalyst in US sports – has been seeing steadily declining ratings over the last couple of years. However, it appears that the newfound mainstream acceptance of sports betting has more than made up for that on the boards.
Sports betting, after all, has always been viewed as taboo by most of the country, and while Las Vegas has offered the pastime for decades, there was still an air of mysteriousness and "forbidden fruit" about the activity. Now that the US Supreme Court has overturned the federal prohibition on it, however, folks are starting to talk about it, mixing references to spreads and lines and odds into their daily watercooler discussions. Sports analysts and radio and TV programs are all advertising sports betting concepts, openly previewing every game in the context of "Vegas lines" and so on. If you follow sports, you've no doubt noticed the complete 180 that's happened over the last few months, and it is clear that sports betting is a massively popular trend that – brought out of the shadows – is growing like gangbusters.
All that said, the old adage cited above will be tested in the future more than it has been right now. Remember, it's still very early in the post-PASPA sports betting world, and only a comparative handful of casinos outside of Nevada – roughly 1% of them – have actually instituted legal sports betting so far. For most Americans, that means that despite scattered legal options, it is still wildly inconvenient to wager on sports at a physical, land-based, brick-and-mortar sportsbook in the US. As more and more states get on board with their own sports wagering industries in the years to come, and particularly as sports wagering moves online in those states, Nevada's clout will be tested more than ever.
However, Nevada is – and always has been – a destination for gamblers. There is something very different (and much more compelling, both intellectually and emotionally) about waltzing in amid the glitz and glamor of a Las Vegas casino to place your bets than simply hopping over to a local convenience store to wager at a grungy terminal or even whipping out your iPhone to put a few dollars on your team while you wait in line at the grocery store. Convenience is king, but not in the context of Vegas, because Vegas is a destination. It is an experience all its own, and it has withstood the ultimate test of time in keeping to that standard. Heck, millions of folks currently bet at legal offshore sportsbooks, and they've been doing that for over 20 years now.
No, sports betting's expansion is not going to hurt sports betting in Nevada at all. Rather, the growing awareness and popularity of the pastime will indeed always be the rising tide.
Best Nevada Sports Betting Sites - 100% Trusted + Safe