Lake Tahoe Sportsbooks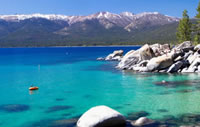 The location of Lake Tahoe sportsbooks makes them ideal for both local and out-of-state sports bettors. With the California/Nevada state line dividing Tahoe into two sides, gamblers can choose whether to play in South Tahoe or North Tahoe. The two areas are drastically different from each other, but both are home to some of the best sportsbooks in Lake Tahoe, Nevada. You will find Harrah's and Harvey's properties on the south shore, while the north shore features sportsbooks at the Hyatt and Biltmore. In total, there are seven Lake Tahoe sportsbooks to choose from that all offer exciting sports betting action for every type of sports fan.
You can place wagers at the best sportsbooks in Lake Tahoe, Nevada, year round. If you are unfamiliar with Lake Tahoe sportsbooks or just want to learn more about the locals' favorite gaming establishments, we can help you out. Find out details such as which betting markets are offered, what types of wagers can be placed, etc. You will also be able to get more information on the legal aspect of sports betting in Nevada. That way, you can bet at sportsbooks in Lake Tahoe with complete confidence.
Best Nevada Sports Betting Sites - 100% Trusted + Safe
Live In-Game Betting In Lake Tahoe
One of the best ways to bet in today's betting world is through live betting. Live betting is the act of betting on sporting events while they occur, with odds and lines that shift and change according to the action in the game. Thanks to today's technological advancements, live betting is as easy as ever. With high-speed data being transmitted across the world in a second, the sportsbooks are able to offer odds on sports in real-time as they occur. With live betting, there is always an opportunity to bet on the game, hedge your bets, or double down. The sportsbooks in Lake Tahoe offer live betting, but the best way to live bet is with the online international sportsbooks. These websites like BetOnline have full live betting suites that handle every aspect of the game. Watch as the odds change after every score, meaning you only have a limited time to catch the best odds. With live betting, you are always in the action.
Is Sports Betting Currently Legal In Lake Tahoe, Nevada?
Yes, sports betting is 100% legal in Lake Tahoe. All types of gambling have been legalized in Nevada, including sports wagering, horse racing betting, table games, and slot machines. Nevada was actually the first state to regulate gambling on a large scale, essentially becoming the birthplace of casinos in the United States during the 1930s. About a decade later, the state legalized sports gambling, and the commercial sports betting industry was born. Nevada was the only state allowed to have a legal sports betting market for more than 25 years, though other states have now started to legalize sports gambling as well.
The reason that NV was able to hold a monopoly for such a long period of time was due to the federal Professional and Amateur Sports Protection Act of 1992 (PASPA). PASPA essentially banned sports betting across the nation, with the only exception being states that had preexisting sports gambling laws. Nevada was the only state with a regulated full-scale sports betting market prior to the passage of PASPA, which is why Lake Tahoe sportsbooks (and other NV bookmakers) have been able to thrive. The federal ban on sports betting came to an end on May 14, 2018, when the Supreme Court found that PASPA was unconstitutional in Murphy vs. NCAA. Nevertheless, the ruling has no impact on the legality of sports betting in Lake Tahoe, NV, as gambling has been – and remains – completely regulated by the state.
What Is The Betting Age In Lake Tahoe, Nevada?
In Lake Tahoe, NV the legal sports betting age is 21 years old. The Nevada gambling age is standard to most states in the US, though there are some exceptions. The 21-and-up age requirement applies to all types of gambling in NV, which includes sports betting, slots, and other traditional casino table games. In addition, you must be 21 or older to bet at any bookmaker in Nevada – not just Lake Tahoe sportsbooks. As long as you bring a valid government-issued ID along with you during your visit, you will be able to place bets and play games at sportsbooks in Lake Tahoe.
Best Sportsbooks In Lake Tahoe, Nevada
The best sportsbooks in Lake Tahoe are spread out across the north and south shores, in cities like Crystal Bay, Incline Village, and Stateline. South Lake Tahoe sportsbooks are about 53 miles from the Reno-Tahoe International Airport and include the Hard Rock Lake Tahoe sportsbook along with the Montbleu Resort Sportsbook. North Lake Tahoe sportsbooks are closer to Squaw Valley and I-80, with the sportsbook at Tahoe Biltmore one of the most frequently visited. All of the sportsbooks in Lake Tahoe offer sports betting on all of the popular sports markets, and each one has an immersive, fun betting atmosphere. While there are bookmakers outside of the ones on our list of top venues for sports betting in Nevada, the following are some of our favorite sportsbooks in Lake Tahoe, Nevada.