Las Vegas, Nevada Sportsbooks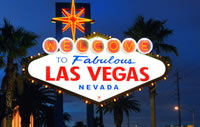 In the world of sports betting, nothing beats the sportsbooks in Las Vegas. Whether you call the hugely popular destination the City of Lights or Sin City, Vegas is known as the gambling capital of the USA – and possibly the world. You will not find better action anywhere else in the country, as Nevada was the first state to formally legalize commercial sports betting. Add to that the area's iconic hotels, casinos, shopping centers, and entertainment venues, and it's no wonder that there is no other place on the planet like Las Vegas. Millions of sports enthusiasts come to the city each year, looking for the best Las Vegas sportsbooks where they can put money on their favorite teams, players, and events. There is no shortage of sports betting action in Las Vegas, with the top sportsbooks in Nevada located right on the Vegas strip.
If you are interested in learning more about what the best sportsbooks in Las Vegas, Nevada, have to offer, continue reading. While there are more than 50 excellent Las Vegas sportsbooks to choose from, we're going to limit our picks. That said, we've chosen some of the most popular bookmaker venues in the area, and these are the first places you should visit if you want to bet on sports during your Vegas vacation. (Of course, we encourage bettors to visit as many sportsbooks as they can to compare lines and odds for any given day's games.) We also offer a bit of information on the legality surrounding sports betting in Nevada, just so you have a better idea of all the great legal wager types available.
Best Nevada Sports Betting Sites - 100% Trusted + Safe
Is Sports Betting Currently Legal In Las Vegas, Nevada?
Yes, sports betting remains legal in Las Vegas, Nevada. Las Vegas became the popular gambling hub it is today because it was the only state to legalize virtually all types of wagering. The state made most types of gambling legal in 1931 with the Wide Open Gambling Act. Then, in 1949, the federal government began to regulate sportsbooks. For many years, there were no real issues, and the government kept its tax revenue rates fairly low. When the US government passed the Professional and Amateur Sports Protection Act (PASPA) in 1992, the law essentially prohibited sports betting expansion in the United States. Only Nevada, Delaware, Oregon, and Montana offered sports betting (though DE, OR, and MT all offered only sports-themed lottery and bingo-style games rather than full-on sports betting) prior to the passage of the law, which is why they were the only states legal permitted to accept sports wagers.
While this allowed Las Vegas sportsbooks to flourish while other states sat on the sidelines being unable to offer single-game sports betting at all, everything changed in 2018. On May 14, 2018, the Supreme Court ruled that PASPA was unconstitutional, opening the door for other states to legalize sports betting. The Court decision has no major impact on NV, as the state will likely continue to dominate the sports betting market for the foreseeable future.
What Is The Betting Age In Las Vegas, Nevada?
The betting age in Las Vegas, Nevada, is 21 and older. This is the legal age for gambling and drinking alcohol, which are both offered at Las Vegas casinos and sportsbooks. Being 21 to gamble is standard across the board in the state of Nevada, so Las Vegas sportsbooks, Reno sportsbooks, Henderson sportsbooks, etc. all have the same age requirement. Always make sure to bring a government-issued ID before visiting sportsbooks in Las Vegas. As a side note, even though reputable offshore sportsbooks will take customers as young as 18, it is best to go with NV's law here and wait until you're 21 before betting on sports online or in person.
Best Sportsbooks In Las Vegas, Nevada
With so many bookmakers to choose from, it can be hard to track down the best sportsbooks in Las Vegas, Nevada. Luckily, we have visited quite a few Las Vegas sportsbooks and can tell you which bookmakers offer the best sports betting action. Sports betting in Las Vegas has become more popular than ever in recent years, with operators regularly revamping their sportsbooks to give visitors the most exciting experiences possible. Top sportsbooks in Vegas take their odds, food, comps, and more into consideration in order to remain on the list of the leading bookmakers in the city. In no particular order, here are some of the best venues for sports betting in Nevada: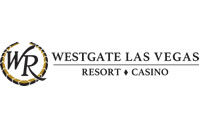 Westgate Las Vegas SuperBook

Address:

3000 Paradise Rd, Las Vegas, NV 89109

Phone:

(702) 732-5111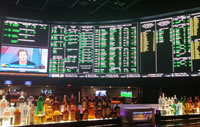 No list of the best sportsbooks in Las Vegas, NV, would be complete without mentioning the Westgate Las Vegas SuperBook. The SuperBook is the de facto standard for sports betting in Sin City, and all the major mainstream outlets quote their odds from this renowned bookie. The 30,000-square-foot sportsbook offers a sports betting experience that you will not find elsewhere. Just imagine a 220-foot-by-18-foot 4K video wall playing all of the biggest games of the day. Well, you don't have to imagine it, because you can actually see it at the Westgate SuperBook.
The venue's wagering menu, of course, is even larger still, including propositions, five innings lines, overnight lines, season totals, division odds, and of course daily betting lines on all your favorite sports. There are also IPT terminals that allow you to wager from your seat, and there are plenty of staff members to explain all the betting options to newcomers to the pastime. The SuperBook is also great for high roller sports bettors, as they will take larger bets than most other venues.
Food and drink also get a top rating at the Westgate Las Vegas SuperBook. There is a bar that also has video poker, and you can visit the food court if you want even more dining options. The screens are so large that you will still be able to view the games no matter where you are on the floor, making the activity that much more accessible no matter what else you're doing. The entire SuperBook is smoke-free and truly offers the best sports betting in Las Vegas.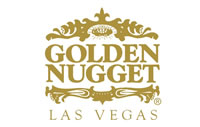 The Golden Nugget

Address:

129 East Fremont Street Las Vegas, NV 89101

Phone:

(702) 385-7111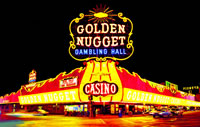 The Golden Nugget Sportsbook offers a luxurious yet laid-back vibe. In fact, the overall atmosphere of the sportsbook at the Golden Nugget is why it gets an A+ in our opinion. The sportsbook is in its own space, closed off from the casino floor. There is plenty of seating, including both booths and lounge chairs. The Golden Nugget has more televisions per square foot than any other sportsbook in Nevada, with a huge video wall and high-definition TVs for watching your favorite games. There are also 45 individual TVs in the betting carrels, giving you a more intimate experience that is perfect for in-game, live betting.
You will find some of the best odds, lines, and spreads when betting on sports at the Golden Nugget. Their independent team of bookmakers sets the lines, which is why their odds will be different compared to other Las Vegas sportsbooks. This makes the Golden Nugget sportsbooks an excellent choice when it comes to shopping for the best lines on the day's games. You will even see a wider variety of teams and sports at the Golden Nugget that you'll find at most other books, as the bookie caters to a diverse, global clientele. There is also a Golden Nugget mobile app that offers the same betting options, accessible from anywhere in Nevada, so you can bet on the go. However, you have to physically visit the book to deposit and withdraw from your account, so plan accordingly.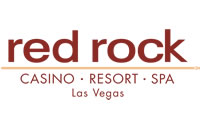 Red Rock Race And Sports Book

Address:

11011 W. Charleston Blvd. Las Vegas, NV 89135

Phone:

(702) 797-7777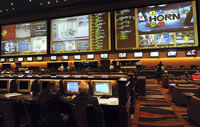 The Red Rock sportsbook is one that every sports bettor should visit at least once. When you walk in, you will immediately notice the wall-to-wall screens that boast 4k Ultra HD technology for crystal-clear viewing. In total, there are more than 250 televisions at the sportsbook, including 213 individual monitors. The odds and lines at the Red Rock Sportsbook are the same as those posted at any of the Station Casinos properties in Nevada, which all use the same bookmaking technology. As one of the favorite sportsbooks of Vegas locals, you will be able to bet on all of the major sports and teams at the Red Rock.
When it comes to comfort and atmosphere, the Red Rock doesn't disappoint. There is a sports bar located at the entrance of the Red Rock Sportsbook where you can grab a drink (or three) to get primed for an evening of games and wagers. Some of the dining options available include top-flight venues like Masso Osteria and the T-Bones Chophouse, while more casual fare can be had at the Yard House, Lucille's, and the Feast Buffet. All of these good eats are only a few steps away from the sportsbook action, too.
The mobile betting app offered by Red Rock Sportsbook is also widely viewed as one of the best in Nevada. Every time you wager, you accumulate points for the Red Rock's Boarding Pass Rewards club. You can also use the venue's app to wager on the ponies, so no matter what your preference is, you'll be able to win money and earn points on the go!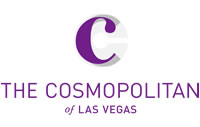 Cosmopolitan of Las Vegas

Address:

3708 S. Las Vegas Blvd. Las Vegas, NV 89109

Phone:

702-698-7000
The Cosmopolitan sportsbook has been greatly improved over the last few years. The book recently doubled in size, and the site's team installed huge LED video walls and plush lounge seating to make viewing the biggest games even more awe-inspiring and comfortable. In the VIP area, you can even stay away from the crowd with a designated high-definition TV of your very own. The sportsbook is operated by CG Technology, so the betting lines and odds will be the same as at the bookmaker's other partner casinos (including the Silverton, M Resort, Venetian, Palazzo, Tropicana, etc.). All of the popular sports markets like football, basketball, baseball, soccer, and hockey are available, as are scores of other national and international sports.
The Cosmo sportsbook also features two dozen video poker machines, and there are bar games like billiards available on-site, too. If you get hungry, you can place an order with the cocktail waitress, who will bring entrees from The Henry restaurant. Drink tickets are few and far between when betting at the Cosmopolitan, but you don't want to get too hammered when you're putting together that epic parlay, anyways.
The Cosmopolitan Sportsbook gives patrons access to In-Running sports wagering, which is their brand of live betting. As a game unfolds, you can wager on live betting odds that change with each play. Mobile gaming is also an option at the Cosmopolitan Sportsbook, making it more convenient to wager on your favorite teams. There are also mobile betting options for blackjack, poker, and slots, which are perfect for when you're taking a break from all the sports wagering action at the Cosmo.